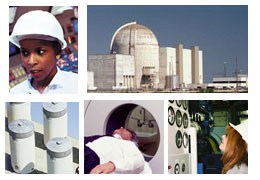 Regulations and Guidance
This page lists regulations and guidance for digital instrumentation and controls (I&C) systems.
On this page:
This page includes links to files in non-HTML format. See Plugins, Viewers, and Other Tools for more information.
Interim Staff Guidance (ISG)
In January 2007, the NRC formed a digital instrumentation and controls (I&C) steering committee to provide management focus on the NRC regulatory activities in progress across several offices, to interface with the industry on key issues, and to facilitate consistent approaches to resolving technical and regulatory challenges. The steering committee has formed the following six task working groups (TWGs) that focus on key areas of concern:
Cyber Security
Diversity and Defense-in-Depth
Risk-Informed Digital I&C
Highly-Integrated Control Room - Communications
Highly-Integrated Control Room - Human Factors
Licensing Process Issues
The TWGs consist of various staff members of NRR, NRO, RES, NSIR, and NMSS. Each TWG is responsible for developing a specific project plan to address the key area of concern. Essentially the plans are to identify and resolve technical issues that will result in more efficient licensing of digital I&C systems for new reactor applications and for retrofits at operating reactors/facilities. The Digital I&C Project Plan defines the problem statements, identifies deliverables, and establishes milestones to resolve the issues. The specific short-term objective of this project plan is to identify digital I&C technical and regulatory issues for which Interim Staff Guidance (ISG) can be developed in time to support the review of the anticipated licensing actions. On August 6, 2007, the NRC issued the Process for Development of Interim Staff Guidance (ISG) in Support of Revisionews of Digital I&C Applications. For issue specific ISGs, please see our Interim Staff Guidance Associated with Digital Instrumentation & Controls for more information.

10 CFR Part 50

SECY Papers
Document Number
Description
SECY-91-292
Digital Computer Systems for Advanced Light Water Reactors, September 26, 1991
SECY-93-087
Policy, Technical, and Licensing Issues Pertaining to Evolutionary and Advanced Light-Water Reactor (ALWR) Designs, (Item II Q), April 2, 1993
SRM to
SECY-93-087
Policy, Technical, and Licensing Issues Pertaining to Evolutionary and Advanced Light-Water Reactor (ALWR) Designs, (Item II Q)
SECY-01-0155
NRC Research Plan for Digital Instrumentation and Control
SECY-08-0033
Approaches for an Integrated Digital Instrumentation and Control and Human-Machine Interface Test Facility in the United States
SECY-08-0033
Enclosure 1
Answers to Nine Questions from the Staff Requirements Memorandum for COMPBL-07-0001
SECY-08-0033
Enclosure 2
The Hub and Spoke Model
SRM-COMPBL-07-0001
Development of a U.S. Digital Instrumentation and Control and Human-Machine Interface Test Facility

Regulatory Guides
Document Number
Description
RG 1.97,
Revision 4
Criteria For Accident Monitoring Instrumentation For Nuclear Power Plants, June 2006
RG 1.152,
Revision 3
Criteria for Digital Computers in Safety Systems of Nuclear Power Plants, January 2006
RG 1.153,
Revision 1
Criteria for Safety Systems, June 1996
RG 1.168,
Revision 1
Verification, Validation, Revisionews, and Audits for Digital Computer Software Used in Safety Systems of Nuclear Power Plants," February 2004
RG 1.169
Configuration Management Plans for Digital Computer Software Used in Safety Systems of Nuclear Power Plants, September 1997
RG 1.170
Software Test Documentation for Digital Computer Software Used in Safety Systems of Nuclear Power Plants, September 1997
RG 1.171
Software Unit Testing for Digital Computer Software Used in Safety Systems of Nuclear Power Plants, September 1997
RG 1.172
Software Requirements Specifications for Digital Computer Software Used in Safety Systems of Nuclear Power Plants, September 1997
RG 1.173
Developing Software Life Cycle Processes for Digital Computer Software Used in Safety Systems of Nuclear Power Plants, September 1997
RG 1.180,
Revision 1
Guidelines for Evaluating Electromagnetic and Radio-Frequency Interference in Safety-Related Instrumentation and Control Systems, October 2003
RG 1.206
Combined License Applications for Nuclear Power Plants (Draft Issued as DG-1145)
RG 1.209
Guidelines for Environmental Qualification of Safety-Related Computer-Based Instrumentation and Control Systems in Nuclear Power Plants, March 2007

Standard Revisionew Plan for the Revisionew of Safety Analysis Reports for Nuclear Power Plants (NUREG-0800)
Document Number
Description
NUREG-0800, Chapter 7

Instrumentation and controls

The Standard Revisionew Plan (SRP) Chapter 7 guidance that addresses digital I&C topics is as follows:

Section 7.0 and Appendix 7.0-A describe the overall review process for digital systems.

Appendix 7.1-A addresses rule changes (10 CFR Part 52, "Early Site Permits; Standard Design Certifications; and Combined Licenses for Nuclear Power Plants," and revisions to 10 CFR Part 50, "Domestic Licensing of Production and Utilization Facilities") and new regulatory guides.

Appendix 7.1-C provides guidance with respect to review according to Institute of Electrical and Electronics Engineers (IEEE) Std. 603-1991 (referenced in 10 CFR 50.55a(h)).

Appendix 7.1-D provides guidance for evaluation of conformance to IEEE Std. 7-4.3.2 as endorsed by Revisionsion 2 of Regulatory Guide 1.152, "Criteria for Digital Computers in Safety Systems of Nuclear Power Plants."

Sections 7.2 through 7.9 focus on systems that include references to digital system guidance in Section 7.1.

Appendix 7-A includes the following Branch Technical Positions (BTP) that address digital system issues:



BTP-14, "Guidance on Software Revisionews for Digital I&C"
BTP-16, "Guidance on the Level of Detail Required for Design Certification Applications under 10 CFR Part 52"
BTP-17, "Guidance on Self-Test and Surveillance Testing"
BTP-18, "Guidance on Use of Programmable Logic Controllers"
BTP-19, "Guidance on Evaluation of Defense-in-Depth and Diversity (D3) of Digital I&C"
BTP-21, "Guidance on Digital Computer Real-Time Performance"

Safety Evaluation
| Date | Description |
| --- | --- |
| 09/28/2004 | Final Safety Evaluation for Topical Report WCAP-16096-NP-A, Revisionsion 1, "Software Program Manual for Common Q Systems" |
| 02/24/2003 | Acceptance of the Changes to Topical Report CENPD-396-P, Revisionsion 01, "Common Qualified Platform," and Closeout of Category 2 Open Items |
| 12/11/2001 | Revisionew of Triconex Corporation Topical Reports 7286-545, "Qualification Summary Report," and 7286-546, Revisionsion 1, "Amendment 1 to Qualification Summary Report" |
| 06/22/2001 | Safety Evaluation for the Closeout of Several of the Common Qualified Platform Category 1 Open Items Related to Reports CENPD-396-P, Revisionsion 1, and CE-CES-195, Revisionsion 1 |
| 08/11/2000 | Acceptance for Referencing of Topical Report CENPD-396-P, Revisionsion 01, "Common Qualified Platform," and Revisionsion 01, Appendices 1, 2, 3, and 4 |
| 05/05/2000 | Siemens letter, Topical Report EMF-2110 [NP] Revisionsion 1, Teleperm XS: A Digital Protection System |

Page Last Reviewed/Updated Tuesday, July 16, 2013