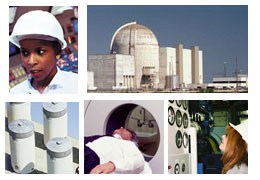 2008 Non-Licensee Actions
This page includes links to files in non-HTML format. See Plugins, Viewers, and Other Tools for more information.
Wackenhut Nuclear Services (EA-07-111, EA-07-114, EA-07-117)
On January 22, 2008, a Confirmatory Order (Effective Immediately) was issued to Wackenhut Nuclear Services, Inc., (WNS) to establish certain requirements as set forth in the Order including (1) revision to its hiring and recruitment policy; (2) a site enhancement plan for the Turkey Point facility; (3) development of an enhanced leadership program; (4) benchmarking, audits and self-assessments, (5) development of performance indicators for the Turkey Point facility; (6) focused one-on-one training between supervisors and subordinates and continuing communications with the NRC detailing progress on the above six items. The Order was discussed during Alternative Dispute Resolution, and, subject to satisfactory implementation of said requirements, the NRC will not pursue further enforcement action on this issue.
All significant enforcement actions issued to non-licensees
Page Last Reviewed/Updated Friday, July 12, 2013