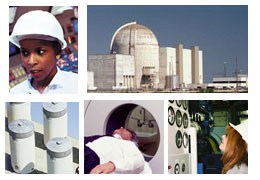 Career Training and Development
Knowledge and experience are the keys to carrying out the NRC mission. If you do not have all the required knowledge and experience for some of our technologically advanced positions, NRC will provide you with what you need. NRC offers on-the-job training, supervisory and management training, and specialized training. This training provides you unprecedented opportunities to gain expert knowledge, develop your career, and stay a step ahead of changing technology and industry. Here are a few examples of the kinds of training and career development programs we offer:
New Employee Briefing
As a new employee, you'll attend a briefing that will familiarize you with the NRC.

Employee Training
The NRC provides employees with instructor-led, computer-based, and self-study training opportunities in a wide spectrum of technical disciplines in support of NRC's regulatory programs and in broad areas of interest to NRC employees. Training is offered using traditional classrooms, computer laboratories, full-scope nuclear power plant control room simulators, and web-based training.

Technical Training
Whether in the classroom or simulator, on-line, or through on-the-job training and self-study in the field, our training programs provide engineers and other technical professionals with the latest information and valuable practical experience in evaluating the design and operation of the various types of nuclear power facilities in order to develop the competencies required to carry out their assigned regulatory activities. Employees learn how to perform inspection, investigation, licensing, and enforcement activities and gain an understanding of nuclear facilities and engineering principles in order to enhance communication and decision-making abilities.

Group Training
Comprehensive group training programs are offered for executive, supervisory, and management development, including training in equal employment opportunity and diversity.

Continuing Education
Courses that provide education in a variety of areas are offered on-site or at local colleges and universities. NRC may pay tuition and fees for job-related courses taken at approved colleges and universities at the undergraduate and graduate level.

Career Counseling
Your professional advancement is important to us. To ensure that you and the NRC are working together to achieve your career goals, we offer one-on-one career counseling.

Training Facilities
The NRC maintains and operates a Technical Training Center in Chattanooga, TN and a Professional Development Center at NRC headquarters in Rockville, MD.
Page Last Reviewed/Updated Wednesday, June 12, 2013