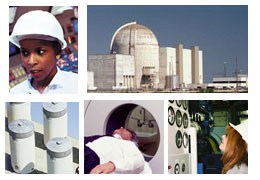 Affirmative Employment and Diversity Management Program
The NRC creates and maintains a work environment to maximize the potential of all employees. At the NRC, we encourage trust, respect, and open communication to foster and promote a positive work environment. Our goal is to build a diverse work force that is committed to enhancing regulatory excellence. Come join our agency team and experience a rewarding and challenging career.
On this page:
Diversity in NRC's Workforce
NRC's approximately 4,000 employees are at our Headquarters complex in Rockville, Maryland, and in four regional offices in Pennsylvania, Georgia, Illinois, and Texas. Our workforce represents diversity in gender, ethnicity, occupation, and age.
The agency's workforce is 40% female and 60% male. Workforce under the age of 40 is 26% and workforce over the age of 55 is 29%. Ethnic and racial demographics are African-American--15%; Asian Pacific American--9%; Hispanic--6%; Native American--less than 1%; and white--69%.

Comprehensive Diversity Management Plan
It is the policy of the NRC to foster equal opportunity for all employees and to promote principles of diversity management that will enhance the level of effectiveness and efficiency of its programs. The concept of diversity management is a strategic business objective that seeks to increase organizational capacity in a workplace where the contributions of all employees are recognized and valued. NRC's goal is to build a high-performing, diverse workforce based on mutual acceptance and trust. It is also NRC's policy to select the best-qualified applicant for the job, regardless of race, national origin, gender, age, color, disability, religion, sexual orientation, or any other non-merit factor.
The Commission and senior management continue to support the Comprehensive Development Management Plan to guide individual behaviors, decisions, and diversity management initiatives that gauge how well the agency is achieving its diversity management objective. The Comprehensive Diversity Management Plan represents a structured approach to ensure continued progress in reaching its diversity management goals, promoting a discrimination-free work environment, and providing opportunities for all employees to use their diverse talents to support the agency's mission.
The CDMP sets expectations that managers and staff must be engaged in order for the agency to make progress. To further this goal, a set of relevant CDMP performance measures were developed and incorporated into the agency's operating plan to measure, monitor, and assess progress in diversity management. Each office is expected to report on its progress and accomplishments achieved consistent with the CDMP goals.

Equal Employment Opportunity Advisory Committees
The agency has seven Equal Employment Opportunity (EEO) Committees to assist agency management in accomplishing EEO objectives. These include the Advisory Committee for African Americans, Advisory Committee for Employees with Disabilities, the Advisory Committee for Asian Pacific Americans, Diversity Advisory Committee on Ageism, Federal Women's Program Advisory Committee, Advisory Committee for Hispanic-Americans Employment Program, and Native American Advisory Committee. These committees provide advice and recommendations to the Director, Office of Small Business and Civil Rights, regarding policies, procedures, and practices related to career development of NRC employees and selection of applicants for employment.

Accessibility and Reasonable Accommodation for People with Disabilities
NRC provides reasonable accommodation for qualified applicants and employees with disabilities except when doing so would pose an undue hardship on the agency. Information about accommodations can be found in the Procedures for Providing Reasonable Accommodation for Individuals with Disabilities

Cultural Events
NRC sponsors an annual Diversity Day and several special emphasis exhibits or celebrations at its Headquarters offices to highlight contributions made to this country by people from various cultures. Similar events are frequently sponsored at the regional offices.
January
Martin Luther King, Jr., Birthday (Poster Exhibit)
February
African American History Month (Poster Exhibit/Program)
March
Women's History Month (Poster Exhibit/Program)
May
Asian Pacific American Heritage Month (Poster Exhibit/Program)
Older Americans Month (Poster Exhibit/Program)
June
Diversity Day Celebration
August
Women's Equality Day (Poster Exhibit)
September
Hispanic Heritage Month (Poster Exhibit/Program)
October
National Disability Employment Awareness Month (Poster Exhibit/Program)
November
Native American Heritage Month (Poster Exhibit/Program)

Page Last Reviewed/Updated Thursday, June 27, 2013