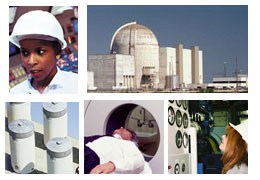 MSI University Champions
Overview
In a nation concerned about global warming and dependence on foreign oil, increased interest in nuclear power has created both opportunities and challenges for the NRC's Recruitment Program. The recent resurgence of interest in the use of nuclear power has more students entering the nuclear field. At the same time, the major nuclear industry employers are facing the same workforce issues as the Federal government. This means that both private industry and government are competing aggressively for the same pool of applicants.
The University Champions program was developed as part of the agency's overall human capital strategy to position the NRC to be as competitive as possible in this evolving environment. Through this program NRC staff volunteer to serve as emissaries of the NRC and establish a close individual liaison with school officials. Examples of University Champion activities include:
Participating in meetings with engineering and science department heads, professors, and career counselors to discuss agency priorities, funding opportunities through grants, and promotion of NRC as an employer of choice;
Participating in career fairs; and
Conducting NRC information sessions for students.
Roles and Responsibilities
The University Champion is the representative of the NRC at a particular university. He/She serves as the liaison between the university and the NRC. The University Champion coordinates all NRC activities at the sponsored university. He/She works to form alliances with the faculty and staff, ensuring student awareness of the employment opportunities available at the NRC. The University Champion may present seminars and information sessions to either the faculty or students and may address student chapters of professional societies. He/She is the NRC point person in scheduling any on-site visits. The University Champion must be aware of any relevant research in the nuclear arena both at the university and in the field in general and be well versed in the current climate for the use of nuclear power in the U.S. as well as the interaction between the NRC and the nuclear industry.
School Identification
Schools are identified by Human Resources Recruitment Branch through the consideration of a variety of factors. The initial factor is a review of the curriculum to determine if the school can support agency workforce needs. The Human Resources Recruitment Branch then looks at any historical data regarding success of prior recruiting efforts at the school. The Human Resources Recruitment Branch will not only look at the number of students who apply but will also look at the number of successful candidates. The Human Resources Recruitment Branch also looks at the demographic makeup of the school. Schools may be added at anytime if they are felt to be a positive recruiting source. They may be removed from our list of schools if they fail to produce for a period of time.
Page Last Reviewed/Updated Monday, September 30, 2013